WELCOME TO TEAMSTERS LOCAL UNION 229
LU229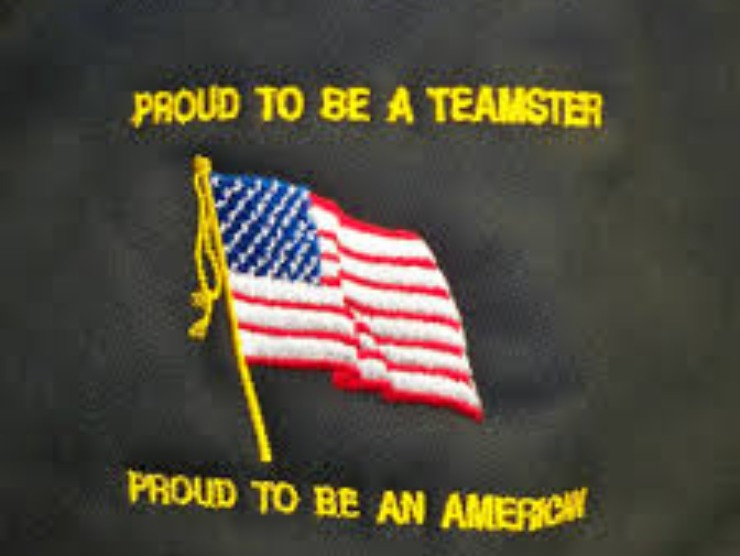 WHO WE ARE:
The Teamsters are America's largest, most diverse union. In 1903, the Teamsters started as a merger of the two leading team driver associations. These drivers were the backbone of America's robust economic growth, but they needed to organize to wrest their fair share from greedy corporations. Today, the Union's task is exactly the same.
The Teamsters are known as the champion of freight drivers and warehouse workers, but have organized workers in virtually every occupation imaginable, both professional and non-professional, private sector and public sector.
Our 1.4 million members are public defenders in Minnesota; vegetable workers in California; sanitation workers in New York; brewers in St. Louis; newspaper workers in Seattle; construction workers in Las Vegas; zoo keepers in Pennsylvania; healthcare workers in Rhode Island; bakery workers in Maine; airline pilots, secretaries and police officers. Name the occupation and chances are we represent those workers somewhere.
There are nearly 1,900 Teamster affiliates throughout the United States, Canada and Puerto Rico.
Being a Teamster member means that you belong to the strongest and most democratic labor union in the world. For more than 100 years the Teamsters Union has been a leader in setting the standard for higher wages, better benefits and improved working conditions for workers throughout the United States and Canada. The Teamsters Union is strong because of the participation of many of its 1.4 million members. Teamster members can find a variety of ways to participate to help build a stronger union in the workplace — from supporting coworkers in their struggle for justice or helping with the bargaining process to joining a local union committee or becoming a volunteer organizer.

TEAMSTERS LU 229 MERCHANDISE
www.teamsters229.imagepointe.com - USE THIS TO ORDER BELOW MERCHANDISE - AS OF OCTOBER 1, 2023
August 29, 2023
PLEASE POST ON BULLETIN BOARD
JOIN US FOR THE TEAMSTERS LOCAL UNION 229 SCHOLARSHIP GOLF OUTING!
The 28th Annual Teamsters Local 229 Scholarship Golf Tournament was held on Saturday, August 26, 2023 at Stone Meadows Golf Course, Bear Creek, Pa.
The event was Captain and Crew format with a shotgun start at 1:00 p.m. We enjoyed great weather, good food and great friendly competition.
Thank you to EVERYONE that participated, donated, volunteered and supported this tournament, with your help we will be able to continue to award scholarships to Teamsters LU 229 family members.
Mark you calendar for next year, the tournament will be held at the same place on August 24 2024
Very truly yours,
Mike Kovaleski
Secretary Treasurer
Event Chairman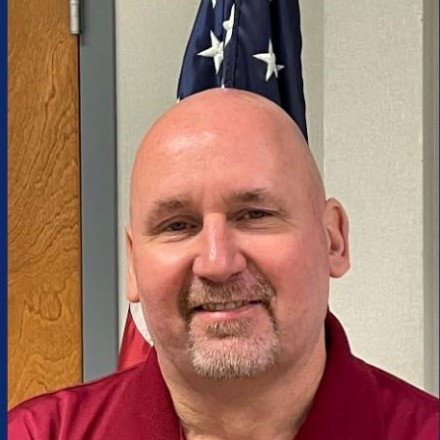 MIKE KOVALESKI
Secretary Treasurer/Principal Officer
Business Representative
Elected 2023-present


r
Joe Secor

Vice President/Business Agent (previous Board Member)
Elected 2023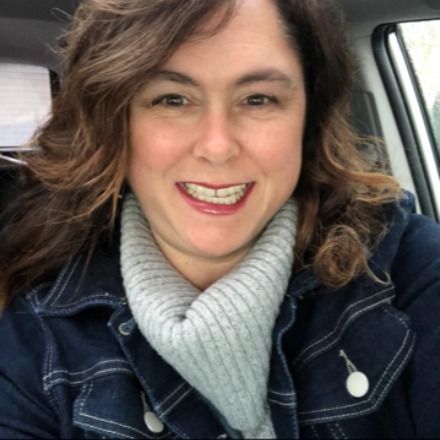 DONNA GRAZIANO
Office Manager/Secretary/Titan Operator
Local Union 229 EXECUTIVE BOARD:
Eugene Allen- PRESIDENT

Ron Sieputowski- RECORDING SECRETARY
Bernadine Hoover - TRUSTEE
Anthony Angelo - TRUSTEE
James Bendowski - TRUSTEE
POSTED ON BULLETIN BOARDS
TEAMSTERS LOCAL UNION 229
GENERAL MEMBERSHIP MEETING


NEXT MEETINGS SCHEDULE FOR :

Please be advised that the Regular Monthly Membership Meetings will be held according to the below listed schedule.
All meetings are held in the meeting room of the Local Union 1260 O'Neill Highway, Dunmore Pa 18512 and begin at 10:00 AM.
Meetings are scheduled for the following dates:
Sunday September 3 2023
Sunday October 1, 2023 - DATE CHANGED
Sunday November 12, 2023
Sunday December 10, 2023
All active Local 229 members in good standing are invited and encouraged to attend. Should you have any questions please do not hesitate to contact the Local Union Office.
Fraternally Yours,
Mike Kovaleski

Secretary – Treasurer/Business Rep.
SCRANTON COUNSELING CENTER
MEMORANDUM To: Yellow Corp. Local Unions (including YRC Freight, Holland, New Penn and Reddaway)
From: John A. Murphy, National Freight Director and Co-Chair, TNFINC
Date: September 13, 2023 Re: Yellow Corporation Bankruptcy Update and Proof of Claims Process TO ALL LOCAL UNIONS HAVING MEMBERS EMPLOYED OR FORMERLY EMPLOYED BY YELLOW CORPORATION AFFILIATES
This Memorandum is an important update to the Yellow bankruptcy proceedings and instructions concerning the filing of proofs of claim for your members. Please review this memo carefully. I. YELLOW CORPORATION BANKRTUPCY UPDATE Yellow Corporation and its operating companies filed for bankruptcy in the District of Delaware Bankruptcy Court on August 6, 2023. The International Union and TNFINC (the "Union") have entered an appearance in the case on behalf of Local Teamster Unions whose members hold claims against Yellow. Health and Welfare and Pension Funds have entered their own appearances in the case and represent claims for unpaid pension, health and welfare fund contributions.
The Union has been appointed to the unsecured creditors' committee along with eight other entities holding large unsecured claims. In that role, the Union represents the interests of all general unsecured creditors as a check and balance to the actions of the Debtor in the bankruptcy. Yellow Corporation has begun the process of selling off its assets to gain cash to pay its debts. The sale process can be either a "going-concern sale" or a liquidation. A going concern sale would mean that a buyer seeks to run its acquired trucking properties and assets as a trucking company. While a going concern sale is still possible, Yellow has stated its expectation that this will be a liquidation process. The Union prefers that the sale process result in an entity acquiring Yellow assets to operate a trucking company as a going concern. September 13, 2023 Page 2 While the Union will seek to obtain a settlement/payment of the debts/obligations owed to its members, please note that the bankruptcy process can be a lengthy one. Once sales are complete, the Debtor will begin repaying its debts, first to secured creditors, then to unsecured creditors. The Union will keep each Local updated as this process unfolds. The Union is relying on each Local to keep affected members updated in turn. II. PROOF OF CLAIM FILING PROCESS The Bankruptcy Court has established November 13, 2023, as the deadline for filing proofs of claim. Please note that this date is the filing date, that is, the date by which the claim must be received by the clerk in the Delaware Bankruptcy Court. It is not a mailing date.
Anyone filing a proof of claim must do so sufficiently in advance of November 13 to ensure its arrival and receipt by the clerk by November 13. Members are receiving the official bankruptcy form for a proof of claim, sent directly to their last known addresses, by the debtors. Anyone is entitled to fill out this proof of claim form and file it. However, the Union will file a comprehensive, "omnibus" proof of claim on behalf of the bargaining unit members, so that all affected members will be included in the claims process. Members can still feel free to file their own proofs of claim if they chose to do so, and no harm will result to a member if two claims are filed on their behalf, one by themselves and one through the Union. A member filing their own claim ensures that the correct information is supplied to the court. The Union will also file an omnibus proof of claim in-part to ensure that the information of all members, even those who do not file their own proof of claim, is supplied to the court. If a member has already filed proof of claim or subsequently files a proof of claim independently, the Union will later reconcile the duplicate claims with the Bankruptcy Court. Please note that the Debtor (Yellow and its operating companies) has "scheduled" each member's claim, meaning that it acknowledges that it owes money to the members. In doing so, however, we believe the debtor has understated employee claims. That is also why the Union is taking care to file an omnibus proof of claims on behalf of the entire bargaining unit.
The Union requires and requests assistance from the Local Unions regarding this process. As noted above, to help employees, the Union will file an omnibus proof of claim covering all employees for their (a) vacation pay, (b) sick leave, (c) WARN Act claims, and other contractual amounts that they are owed by the Debtor. We will estimate the vacation pay, sick pay and WARN Act totals for all members, including for amounts that would become due next year under the NMFA. However, we need your assistance with respect to the following items: i. If you have a list or lists (such as a seniority list) of each member who was employed by Yellow or its affiliates, or who was on leave, please provide it to us as soon as possible. If you can, please provide each members' seniority date, final date of employment, job classification and/or pay rate. We will use the list to ensure that we do not omit any employee who is owed a claim. September 13, 2023 Page 3 ii.
If you have any grievances with monetary value pending for an employee, please send us copies of the grievance, any decision of the joint committee, and the estimated amount owed to the member. iii. If you are aware of any other monetary compensation owed to a member (besides vacation, sick leave, or WARN Act damages), please notify us of the amount owed and what it is for. iv. If your Local has specific information showing the specific amounts owed to individual Yellow employee members for sick, vacation and other contractual amounts, please forward that information as well. v. You can send the information requested above directly to the Union, care of the Freight Division, or to the bankruptcy lawyer retained by the Union and whose name and address is listed below. vi.
Please provide the information requested above as soon as possible, but in no event later than October 1, 2023, so that we can complete and timely file the omnibus proof of claim for your members. Please deliver these items to the bankruptcy attorney retained by the International Union at the address listed below:
Emma Woods, Esquire The Previant Law Firm 310 W Wisconsin Ave, Suite 100MW Milwaukee, WI 53203 Email: emw@previant.com Phone: (414) 271-4500 Fax: (414) 271-6308 JA

MEMORANDUM
To: Yellow Local Unions (YRC Freight, Holland, New Penn and Reddaway)
From: John A. Murphy, Co-Chair, TNFINC
Date: August 4, 2023
Re: WARN Act Case Against Yellow
As you know, Yellow abruptly closed its doors last Sunday, July 30. As of this morning, Friday, August 4, 2023, Yellow has not filed bankruptcy. It does not appear to have submitted a WARN Notice to the States. We understand that Yellow has sent notices directly to its employees. We have not seen any such letters yet. Additionally, the International Union and the Freight Division assisted Yellow Corp. members in the filing of a class action WARN act lawsuit against Yellow and its operating companies in Nashville, Tennessee. A copy of the complaint is attached. The Case is captioned and numbered as follows: Adcock, et al., v. Yellow Corp., et al.: Case No. 3:23-mc-09999 (M.D. Tenn.), filed August 2, 2023). It is anticipated that the complaint may be amended to include additional named plaintiffs to serve as class action representatives. The International and the Freight Division stand ready to lend whatever support may be necessary to help in this effort.
https://teamster.org/2023/07/teamsters-notified-that-yellow-corp-operating-companies-have-closed/

TO USE ABOVE LINK PLEASE HIGHLIGHT AND RIGHT CLICK GO TO
(WASHINGTON) – The Teamsters Union was served legal notice today that Yellow Corp. is ceasing operations and filing for bankruptcy.
"Today's news is unfortunate but not surprising. Yellow has historically proven that it could not manage itself despite billions of dollars in worker concessions and hundreds of millions in bailout funding from the federal government. This is a sad day for workers and the American freight industry," said Teamsters General President Sean M. O'Brien.
The Teamsters are committed to ensuring members are protected and notified with all the latest information. The International is putting infrastructure in place to help affected members get the assistance they need to find good union jobs throughout freight and other industries.
The situation is developing. Additional details are forthcoming.
Pa Unemployment
1-888-313-7284
Here is a link to the 2023 UPS Master and relevant Supplement/Rider vote ratification results for each UPS Teamster local:
https://teamster.org/ups-ta-2023-2028/?fbclid=IwAR2mijIk6E8Fx0zHDaTbSwRQEIwC9pf_HsEqz6hl6PLtI1XDGz7TK9BoOK0
Locals Representing 340K UPS Workers Nearly Unanimously Recommend Contract
Press Contact: Kara Deniz Email: (202) 497-6610
(WASHINGTON) – Teamsters local unions representing 340,000 full- and part-time workers at UPS voted 161-1 on Monday to endorse the tentative agreement reached with the delivery giant on July 25 and recommend its passage by the full membership.
Of the 176 local unions with UPS members, 14 affiliates failed to show up to a meeting in Washington, DC, to review the tentative agreement.
At least two representatives from all other local unions discussed more than 60 changes and improvements to the UPS Teamsters National Master Agreement, the largest private-sector collective bargaining agreement in North America. The gains achieved during negotiations, which occurred regionally and nationally since January, are larger and more lucrative than any previous Teamsters contract at UPS. The tentative agreement, valued at $30 billion, establishes record wage increases for all workers for the life of the contract, installation of air conditioning in new vehicles, the end of an unfair two-tier wage system, catch-up raises for part-timers, Martin Luther King Day as a paid holiday for the first time, new language to prevent forced overtime on days off, and other huge wins.
Now that local unions have nearly unanimously endorsed the tentative agreement, all rank-and-file UPS Teamsters will have the chance to vote on ratification from August 3-22.
"The entire UPS Teamsters National Negotiating Committee stands behind this historic contract and our UPS local unions have resoundingly voted to endorse it," said Teamsters General President Sean M. O'Brien. "Our tentative agreement is richer, stronger, and more far-reaching than any settlement ever negotiated in the history of American organized labor. The Teamsters are immensely proud of reaching agreement with UPS to improve the lives of our members, their families, and working people across the country."
Founded in 1903, the International Brotherhood of Teamsters represents 1.2 million hardworking people in the U.S., Canada, and Puerto Rico. Visit Teamster.org for more information. Follow us on Twitter @Teamsters and "like" us on Facebook at Facebook.com/teamsters.
UPS PRACTICE PICKET JULY 11 2023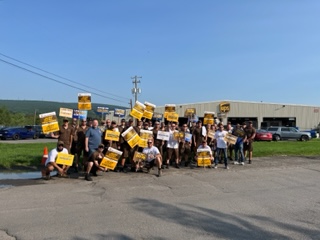 2023 UPS PRACTICE PICKET IN THE MORNING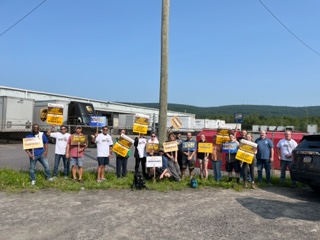 2023 UPS PRACTICE PICKET IN THE MORNING
2023 UPS PRACTICE PICKET IN THE MORNING
2023 UPS PRACTICE PICKET IN THE MORNING
New Contract Protecting Nearly 8,000 Workers Overwhelmingly Approved
Press Contact: Daniel Moskowitz Phone: (770) 262-4971 Email: dmoskowitz@teamster.org
(WASHINGTON) – Teamsters have overwhelmingly ratified a new national contract at TForce Freight by 81 percent. The five-year master agreement provides members with significant improvements to wages and benefits, and safeguards against subcontracting and technology.
"Teamsters at TForce have set a powerful example for how to take on the employer and win a strong agreement. Over the next five years, TForce workers will continue to establish better standards for freight under this contract, including the most lucrative economic package in the industry and vital protections for technology, pension, health care, and safety," said Sean M. O'Brien, Teamsters General President and Chair of the Teamsters National Freight Industry Negotiating Committee (TNFINC).
The agreement will go into effect August 1, 2023, and expire July 31, 2028. Contract highlights include:
• Wage Increases: The highest wage increases in the history of the national contract. Full-time local cartage and clerks will receive increases of $4.50 per hour over the life of the agreement. Road drivers will receive industry-leading increases to their current mileage rate over the length of the deal, starting at $0.7557 in August 2023 and increasing to $0.8257 by January 2028. The agreement eliminates split wage increases and two-tier wages.
• Health, Welfare, and Pension Contributions: TForce is required to increase its contributions to health, welfare, and pension plans. These contributions will provide vital support for members' health care and retirement needs.
• Technology Safeguards: The agreement includes provisions to safeguard members' rights and well-being from invasive technology. It prevents discipline from cameras and prohibits the use of robots, driverless vehicles, drones, or other technology to move freight or replace drivers, clerks, or dockworkers.
• Additional Holiday: Martin Luther King Day has been added as a paid holiday.
• Safety: All newly purchased equipment and vehicles must have air conditioning.
• Discretionary Days and Vacation: Starting January 1, 2024, two additional discretionary days will be added to the contractual floor, increasing the minimum number of paid days from four to six. There will be no blackout dates.
• Work Rule Protections: Shuttle and drayage work will not count towards the guarantee covered under the agreement. Road drivers will only perform road work and cannot work the docks except for the current mini-hub operations. TForce must have approval from the Teamsters for any other expansion of mini-hub operations.
• Protections Against Subcontracting: Road drivers would be protected against subcontracting. Penalties have been put in place to ensure rail and subcontracting come back into the bargaining unit.
"Our members at TForce have spoken loud and clear, and they overwhelmingly agree this new contract will deliver massive economic gains and non-economic improvements," said John A. Murphy, Teamsters National Freight Director and TNFINC Co-Chair. "The entire union thanks our lead negotiators Kris Taylor and Ed Thompson and the full negotiating team for their efforts to bargain an industry-defining agreement. Most of all, we thank the tireless and dedicated rank-and-filers who served on the negotiating committee to improve the lives of their fellow Teamsters at TForce."
Teamsters voted in-person last week and ballots were counted on Sunday. The agreement covers approximately 7,800 Teamsters at 126 local unions throughout the U.S.
Founded in 1903, the International Brotherhood of Teamsters represents 1.2 million hardworking people in the U.S., Canada, and Puerto Rico.
Visit Teamster.org for more information. Follow us on Twitter @Teamsters and "like" us on Facebook at Facebook.com/teamsters.
EMPLOYMENT OPPORTUNITY
NICHOLAS TRUCKING
COURTDALE PA
CLASS B
$24.16 - $25.32 HOURLY
MEDICAL BENEFITS
NICHOLASTRUCKING.COM
570-287-2266
April 1, 2023
TO ANY MEMBERS WORKING PIPELINE/CONSTRUCTION IN TEAMSTERS LOCAL UNION 229
Effective immediately the following procedure will be followed in regards to the pipeline list, due to the fact that notification by letter will be sent to those on the call out list for the Pipeline in regards to how Teamsters LU 229 will send out workers to jobs that become available in the Local and Pipeline contract:
1. The pipeline list is good for 180 days, you must let the Agent know that you want to be retained on the list with your name, phone number, qualifications every 180 days, it is the members responsibility to be renewed every 180 days. If your qualifications change it is your responsibility to let the agent know to change it on the list.
2. If a member is called for a job they can refuse once and are skipped, the second refusal they are removed from the list until the next list is effective and they must call in to be put on that list.
3. A member must be available immediately for work, example you are called at 8:00 a.m. for work at 9:00 a.m. you are working elsewhere, you refuse, your name is removed until you quit that job and let the agent know they are available your name then goes back on the list.
4. Stewards put to work – Being a Steward, you must be able to do all aspects of the job, you are only a Steward for that job, when that job is finished you must put yourself back on the list available for work.
Fraternally,
Joe Secor
Vice President
Business Representative
Major Energy Construction Projects Prepare to Break Ground
Hundreds of positions need to be filled for two major energy construction projects set to get underway in Alaska's North Slope.
The two projects are the Willow Project and the Pikka Project — ventures that took years to come to fruition following critical input from the International Brotherhood of Teamsters and Teamsters Local 959.
Among the hundreds of open positions are lowboy hauling, pipe stringing, side dumps, line haul/over-the-road, semi-end dump, water tankers, construction drivers, surveyors, and hostlers. Experienced drivers are needed as well.
The jobs will employ Teamsters from Anchorage to Prudhoe Bay in various positions with many contractors. Wage packages will be competitive, with health care and pension benefits included.
Join Alaska Teamsters and help build American energy independence in some of the most unique worksites on the planet. Visit akteamsters.com/freight-surveyors-line-haul-construction-pipeline-jobs/ to access the application portal and find frequently asked questions. For more details, contact the Local 959 dispatcher at (907) 751-8566.
April 4, 2023
PLEASE POST ON UNION BULLETIN BOARD
Teamsters Local 229 current Executive Board has been notified by the International Brotherhood of Teamsters General Counsel, that the recent appeal of the decision of JC 53 was upheld favorably for Teamsters Local Union 229. The Appeal was filed by former Executive Board member Brother John McAdarra, Scranton Counseling Center in regards to the Officers Election which was held in October 2022.
The decision of the IBT General Counsel to uphold the original decision of Teamsters JC 53, is an honest and fair one, based on facts presented to both Counsels. Teamsters Local Union 229 will continue to always work for members rights.
Teamsters Local Union 229 will continue to follow the IBT Constitution and current LU 229 By-Laws and any future revisions to either.
Teamsters Local Union 229 Executive Staff and Principal Officer would like to thank the IBT General Counsel for their time in the review of the appeal.
Fraternally,
Eugene Allen

President Teamsters
Local Union
Executive Board


TEAMSTERS JOINT COUNCIL 53 ANNOUNCED AT THE 2023 PA CONFERENCE THE ENDORSEMENT FOR THE FOLLOWING:
JILL BECK, CIVIL LIGTIGATOR AT BLANK ROME AND CANDIDATE FOR PA SUPERIOR COURT
JUDGE PAT DUGAN, CANDIDATE FOR PA SUPERIOR COURT
DANIEL MCCAFFERY, SUPERIOR COURT JUDGE, CANDIDATE FOR PA SUPREME COURT
INFORMATION IN REGARDS TO STRIKE BENEFITS
AUTHORIZED STRIKE
IN THE EVENT OF A STRIKE, STRIKE BENEFITS ARE CALCULATED AT 2.5 X'S YOUR HOURLY RATE THEN MULTIPLY BY 5 THAT WILL BE YOUR WEEKLY BENEFIT FROM DAY ONE IF A STRIKE OCCURS AT YOUR EMPLOYER FACILITY

TEAMSTERS LOCAL UNION 229 WELCOMES THE OPPORTUNITY TO MEET WITH AND DISCUSS HOW WE CAN HELP TO BUILD A STRONGER WORKFORCE
we represent ALL work fields i.e.,(trucking, warehouse, law enforcement, township DPW, manufacturing, health care, social worker and many more)


If you work for an employer whose workers are not part of a Union and you want to help to build a Union in your workplace, CONTACT US button on our MORE PAGE. Fill out the questionnaire, and push the submit button. We'll immediately put you in touch with a LOCAL Union Official who can talk to you about Unions and what it takes to organize.

Teamsters Local Union 229 has organized Milford Pike CID Unit, congratulations to these hard working ,dedicated employees and now members of Teamsters Local Union 229!

CONTACT US
---
TEAMSTERS LOCAL UNION 229 OPEN: MONDAY THRU FRIDAY FROM 9:00 A.M. TO 4:45 P.M (HOURS SUBJECT TO CHANGE PLEASE CALL )
WITHDRAWAL CARD
Members not working at the craft for a complete calendar month for reasons other than sickness or injury may request, and be issued, an Honorable Withdrawal Card in accordance with Article XVIII of the International Constitution. Members off work for a complete calendar month because of sickness or injury should contact the Union office regarding the issuance of a withdrawal card.
Please note that any member who is not required to request a withdrawal card in accordance with the International Constitution but who requests and is issued a withdrawal card must be advised that the issuance of that withdrawal card may result in a break in their twenty-four month continuous good standing requirement for eligibility to:
· Hold local union office.
· Be a Delegate/Alternate Delegate to the next International Convention.
· Be a candidate to run for International Office; and
· Nominate/vote in the election of Union officers; the election of Delegates/Alternates; or, in the election of International Union officers.
· Any other continuous good standing requirements of Local Union No. 229 as stated in the Local Union By-Laws.
THE COST FOR A WITHDRAWAL CARD IS $0.50 AND YOU MUST BE IN GOOD STANDING TO OBTAIN ONE, FAILURE TO OBTAIN A WITHDRAWAL CARD CAN RESULT IN SUSPENSION FROM THE UNION, A DISCONTINUING OF SCHEDULING FOR WORK PURPOSES AND A RE-INITIATION FEE OF $50.00 AND ALL BACK DUES MAY BE REQUIRED TO CLEAR ARREARS.
ALSO, THE LOCAL UNION MUST BE NOTIFIED WHEN YOU RETURN TO WORK SO THAT YOUR WITHDRAWAL CARD CAM BE DEPOSITED.
WHAT DO YOU PAY DUES FOR:
Dues provide the resources to stand up for good jobs and benefits, decent working conditions and a better future for our families. That's why union members in private industry earn 38 percent more on average than nonunion workers. They also receive 54 percent more in benefits. None of this would be possible without the strength that comes from our Teamster dues.
REPRESENTING YOU THE MEMBER IN NEGOTIATIONS FOR CONTRACTS, ARBITRATIONS AND UNJUST TERMINATIONS are a few along with those
Most of your dues, 78 percent, stay with your local union in order to fund activities that give workers more power at the bargaining table, in the statehouse and in the community. Some of these activities include:
Organizing expenses;
Office equipment and regular administration expenses;
Attorneys to assist in negotiations, grievances and arbitration;
Training;
Research into companies and industries to gather information for negotiations and organizing; and
Accountants to analyze the company's books.
Members receive information about how dues money is spent by their local at regular monthly membership meetings, and local unions also file annual reports with the U.S. Department of Labor. The International Union publishes its annual audited financial statement in Teamster magazine, which is sent to every member.
The grievance procedure is a negotiated article within your contract that enables the union to enforce the terms of the contract and protect the rights of workers. If management violates the contract, the grievance procedure allows the member to follow a process that can provide relief or justice.
Teamster contracts may define a grievance in several ways: It could be "a dispute between the union and management over the application and/or interpretation of the agreement," or "any dispute or difference arising between an employee and management or between the union and management." Each grievance procedure has specific steps with time limits that must be followed. The steps in a grievance procedure vary, but a typical one may include:
Step One: The steward and the grievant meet with the supervisor within 10 days of the occurrence to resolve the grievance. Management has five days to respond.
Step Two: If there is no settlement at Step One, a union representative, the grievant and a management representative will meet to try to resolve the grievance.
Step Three: If still unresolved, the grievance will be heard by an arbitrator or panel who will render a decision.